Photo: Facebook/Save the Blue Heart of Europe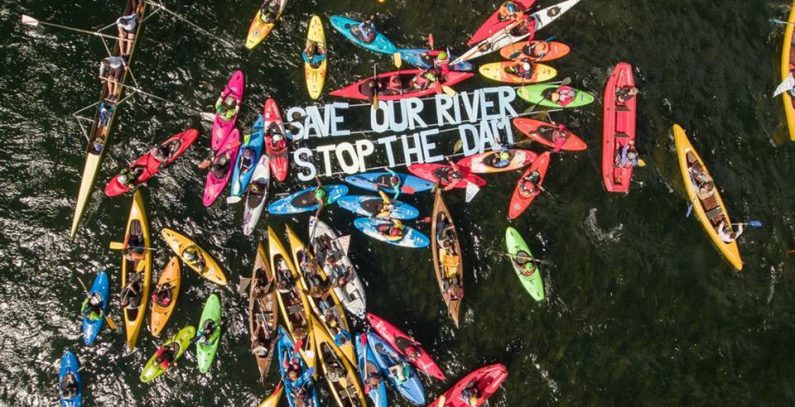 Environmental activists and civil society organizations (CSOs) from across the Balkans are organizing protests under the slogan "Our rivers – No DAMage!" in July over hydropower projects threatening to leave local populations without homes, arable lands, drinking water, and irrigation supply, or the landscape they have enjoyed for generations.
The protests against hydropower plants (HPPs) in the Balkans, notably small hydropower plants (SHPPs) will be organized from July 6 to 16, in Albania, Serbia, Kosovo*, Montenegro, North Macedonia, Slovenia, Bosnia and Herzegovina, and Greece. Ratko Ristić, Dean of the University of Belgrade Faculty of Forestry, has discussed the damaging effects of small hydropower plants in an interview with Balkan Green Energy News. Also in an interview with Balkan Green Energy News, Aleksandar Jovanović Ćuta of the Defend Rivers of Mt. Stara Planina movement has discussed the struggle against SHPPs in Serbia.
A world record was set in 1990 when a solar-powered airplane flew across the United States in stages, using no fuel at all.
One of the largest protests organized by the Defend Rivers of Mt. Stara Planina movement was held in Pirot on September 2, 2018 , when thousands of people gathered to protest the construction of small hydropower plants in protected areas. The next major protest was held in Belgrade on January 27, 2019 , when thousands demanded the end of the construction of small hydropower plants.

The stories of dam-affected people from across the region are available on the Save the Blue Heart of Europe campaign's website.

The Save the Blue Heart of Europe campaign aims to protect the most valuable rivers in the Balkans from a "dam tsunami" of about 3,000 planned projects, according to its website. The campaign is coordinated by the NGOs Riverwatch and EuroNatur and carried out together with partner organizations in the Balkan countries.
The foundation Manfred-Hermsen-Stiftung for Nature Conservation and Environmental Protection supports the Action Weeks for Balkan Rivers, according to the campaign.
ACTION SCHEDULE
(click on the links for more detailed information on individual actions, scroll for English)
July 6 Protest in Tirana, Albania. Organized by EcoAlbania.
July 6-7 Protest Bus Tour to affected communities in Serbia, Organized by Blue Heart coordinator in Serbia, the Stara Planina action group and the Right to Water.
(July 6: Visiting affected communities between Savski nasip in Belgrade and Pirot.)
(July 7: Protest action Stara Planina.)
July 8 Protest in Decan, Kosovo*. Organized by the Environmentally Responsible Action (ERA) group.
July 9 Protest in Podgorica, Montenegro. Organized by Green Home.
July 13 Protest in Zirovnica, Mavrovo National Park, North Macedonia. Organized by Front 21/42 and the local community of Zirovnica.
July 13 Flotilla Protest within Balkan Rivers Tour 4, Slovenia: Dam Reservoir Most na Soči Soča river. Organized by Balkan Rivers Defence.
July 14 Protest in Sarajevo, Bosnia and Herzegovina. Organized by the Center for Environment (CZZS).
July 16 Protest within the Vovousa Festival, Greece. Organized by Pindos Perivallontiki.
In Iceland, 100% Of Their Energy Is Supplied By Geothermal And Hydropower Sources. Dubbed 'The Land of Fire and Ice', Iceland is essentially built around a string of volcanoes giving them access to geothermal energy that helps heat up 9 out of 10 homes. Due to this natural abundance of renewable energy, Iceland is the world's largest green energy producer per capita – 9 times more than the rest of their EU neighbors in fact!
( * This designation is without prejudice to positions on status and is in line with UNSCR 1244/99 and the ICJ Opinion on the Kosovo declaration of independence.)