Photo: Government of Montenegro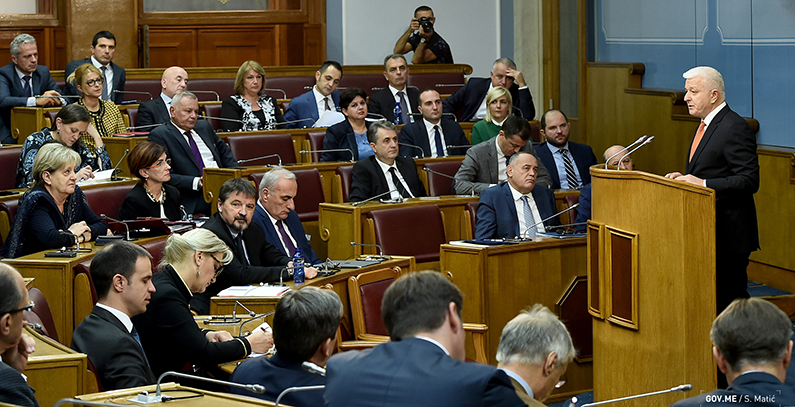 Montenegrin Prime Minister Duško Marković has announced fresh tendering procedures for the leasing of state land intended for the construction of power plants using renewable energy sources, as well as the signing of an agreement for a solar power plant at the location of Briska Gora in the Ulcinj municipality by the end of the year.
The agreement on the lease of state land for the construction of a 250 MW solar power plant will be signed by the end of the year, Marković told MPs, according to the Montenegrin media.
The commission handling tendering for the Briska Gora solar project has selected the Fortum-EPCG-Sterling & Wilson International Solar FZCO consortium as the top bidder.
There is a lot of interest from investors in the project to build a solar power plant at the location of Briska Gora in Ulcinj, Marković said, noting that it is a EUR 170 million investment with EUR 65 million in direct budget revenues over a period of 30 years, based on land lease. According to Marković, 226 new jobs will be created.
More than half of renewable energy sources are devoted to producing electricity.
The Prime Minister of Montenegro announced that fresh tendering procedures for the lease of state land are expected, with the aim of building power plants that will use renewable energy sources.
The first will be a tendering procedure for the construction of a wind farm in the continental part of the Bar and Budva municipalities, he said.
Marković noted that the Montenegrin energy sector has finally developed to a level that allows the construction of new production facilities without financial incentives and state guarantees.
The moment is close when an increase in the installed capacity of power production will not mean a rise in electricity prices for consumers, but improved competition and services, Marković said.
Krnovo wind farm receives EUR 13.2 million
Answering the questions of the MPs in the Montenegrin Parliament, Economy Minister Dragica Sekulović said that the Krnovo wind farm generated 113 GWh of electricity in the first three quarters of 2018, or 4% of the total production in the country. According to Sekulović, the market value of this energy was EUR 7 million, and import of electricity was consequently that much lower.
The World's Largest Dam, The Itaipu Dam Provides Both Brazil & Paraguay With Electricity. Located at the border of Paraguay and Brazil, the Itaipu dam spans an impressive 7,919 metres across and is almost 200 metres tall. The Itaipu dam provides Paraguay with 76% of the country's electricity while also generating 17% of Brazil's energy needs every year.
With all incentives calculated, the producer received EUR 13.2 million, and the company is obliged to cover the cost of land lease and use of the transmission system, and maintain the plant in the agreed condition, Sekulić said.