Photo: Finance in Motion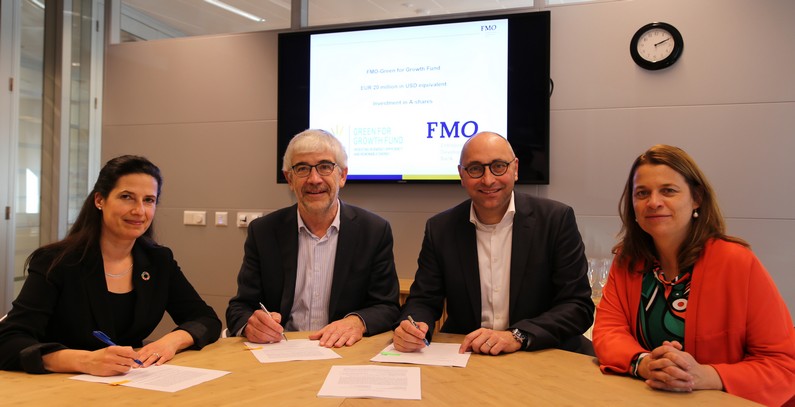 Dutch development bank FMO has invested a further EUR 20 million into the Green for Growth Fund (GGF), bringing the bank's total investments in the fund to EUR 60 million. The loan agreement was signed in The Hague on November 15, 2018, according to a joint press release.
This investment will be used to finance energy efficiency, resource efficiency and renewable energy measures via financial institutions, as well as selected direct investments in projects, in South-East Europe, the Caucasus, and the MENA region.
FMO has been a strategic partner of the GGF since 2012. Among International Financial Institutions, the bank is the largest investor in the GGF after the fund's two co-initiators, German development bank KfW and the European Investment Bank (EIB). FMO invests in projects and businesses in developing countries to spur economic development, reduce inequality, and help mitigate the negative effects of climate change. The Bank focuses on the sectors of agribusiness, energy and financial institutions to support sustainable growth in line with its commitment to the UN Sustainable Development Goals (SDGs), according to the press release.
In 1921 Albert Einstein was awarded the Nobel Prize in Physics for his discovery of the photoelectric effect – and hence, solar panels.
GGF helps cut annual CO2 emissions of over 590,000 tonnes
The Green for Growth Fund (GGF) provides refinancing to financial institutions to enhance their participation in the areas of energy efficiency, resource efficiency and renewable energy as well as making direct investments in non-financial institutions with projects in its target region. The fund has an outstanding portfolio of over EUR 400 million in 17 countries and contributes to reducing annual CO2 emissions of over 590,000 tonnes and annual primary energy savings of over 2.2 million MWh.
At the signing ceremony of the loan agreement, the GGF Chairman Olaf Zymelka stated: "We deeply appreciate the strategic partnership with FMO. Over the years, FMO's support has enabled us to extend the green footprint of the GGF to newer frontiers and projects and we are delighted to see this partnership continue. "
Huib-Jan de Ruijter, Director Financial Institutions at FMO said: "We are pleased to expand our partnership with the Green for Growth Fund, which offers a strong platform to collaborate with likeminded investors to fight climate change. Investments to advance energy efficiency and renewable energy, like our investment into GGF, will significantly contribute to reducing energy consumption and CO2 emissions, thus helping to mitigate climate change."
Tech Corporations Are Fighting To Be Leaders In Green Energy. From Apple and Facebook to Google and Microsoft, big technology firms are in a race to help build a green internet. This means a commitment to powering the company's initiatives and business operations through green energy. In the latest 2017 report, global brands like Google, Apple and Facebook were graded A in the clean energy index.